What is Call Screening? How to use Call Screening at your business?
by Traverse Telecom Posted on Wed 29th Jan 2020
---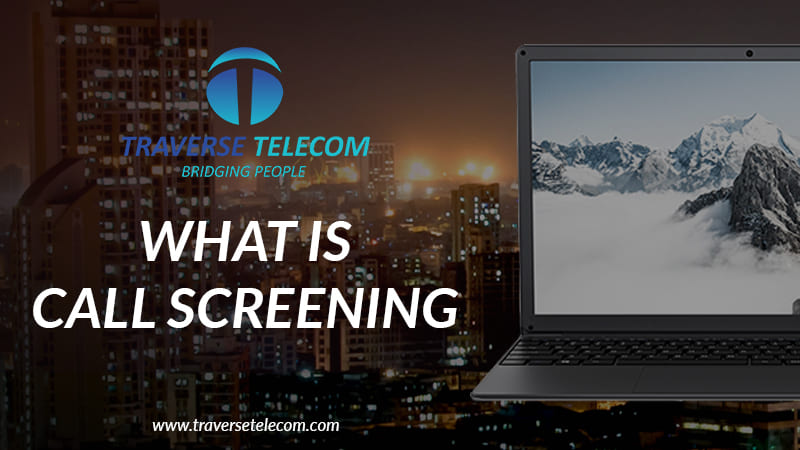 ---
According to YouMail, there were more than 55 million robocalls made in the US in 2019. You must have received automated incoming calls with no relevant message in the past and we all know how infuriating it is to waste time on such calls daily.
Companies and telemarketers out there use robocalls to mass promote their services and products to increase their brand reach, they might be doing it for the betterment of their business but it indirectly hurts the targeted consumers.
Automated calls are a good way to send relevant messages, amber alerts, but most businesses out there take advantage of its mass calling feature to promote their products and today we will tell you how you can protect yourself from all the telecallers by activating call screening on your device.
Before exploring how to best use the call screening feature, let's see what Call screening is first!
What Is Call Screening?
Call screening is the technology used to screen the incoming calls and then decide what to do with them. Call screening technology assesses the characteristics of the incoming calls and then provides the user the tools to either answer, disconnect, or block the call.
Call screening feature comes handy when you or your business receives multiple automated calls daily and want to distinguish between them and the real relevant calls to save time.
Call screening technology can be used by individuals as well as businesses all over the world to save time while answering calls. For businesses receiving hundreds or even thousands of daily incoming calls, call screening can be a boon and can help save thousands of dollars and an ample amount of valuable time.
So, what are the benefits of using call screening at a business?
Benefits Of Using Call Screening At Your Business
1) Caller ID
You might already have a phone that displays caller ID but what you really see is just the number and nothing else. Call screening takes it a level further and with the help of the auto-attendant, you can ask the person for his name before you even pick the call.
Most of the VoIP providers include call screening and auto-attendant features so that you chose the calls you want to receive and the calls you want to ignore.
2) Easy Accept And Reject Feature
With call screening, you get total control over which calls get answered and which calls get rejected. Now with the push of a button, you can accept or reject the screened incoming calls. You can preset a number to get answered or rejected as soon as the call arrives, you can block numbers and make sure that call from a predefined number never arrives.
3) Automated Audio Prompts
If you are someone who likes multi-tasking at work and has no time to pick up every call manually, you can activate automated audio prompts so that the phone announces the name of the person calling and the nature of the call.
4) Pre-Screen Numbers
With our call screening feature, you can pre-define a set of numbers or area codes from where you don't want to receive any incoming calls. You can block any area code or country code in your account and you will never receive any type of call from those regions.
So now that you know the benefits of using call screening at a business, let's see what type of people use call screening in their daily lives.
Types Of People Who Can Benefit From Call Screening
1)Salesperson
Salespeople have to make and receive hundreds of calls daily and answering every incoming call can be tiring. Now they can screen all the incoming calls and only receive the calls they believe will convert into a sale.
2) Customer SupporT
Customer support people have to deal with hundreds of incoming calls daily. Most of the calls coming to the customer support department are targeted customers looking for answers, but sometimes a few angry people, pranksters, and troublemakers try to waste their time by calling frequently.
3) Talk Show Hosts
Famous talk show hosts often find people calling continuously just to make fun of them or prank them on call in order to make a name for themselves. By using the call screening feature, talk shows can block frequent prank callers and check the Caller ID to see if the person calling is genuine or not.
4) Celebrities
Celebrities from all over the world are tired of fan calls and fans messages, they can take advantage of call screening technology to reject calls coming from unknown numbers and only answer calls coming from people already in the Contacts or people having valid Caller ID's.
The Call screening feature is not just limited to answering, rejecting and blocking a caller. Call screening together with IVR and auto-attendants can be used to add greetings at the start or end of the call, take personal information of the caller, forward call to the relevant department and many more.
Call Screening is a feature that every phone user should take advantage of. Most of the VoIP providers offer call screening feature with their VoIP Plan or toll free numbers.
Traverse Telecom is one of the best VoIP and toll free number providers and we strive to provide the best service possible. We provide 24×7 customer support for all our existing as well as potential customers, and if you ever feel like contacting us, you can email us at connect@traversetelecom.com.