How To Increase Your Brand Presence On Social Media
by Traverse Telecom Posted on Fri 28th Feb 2020
---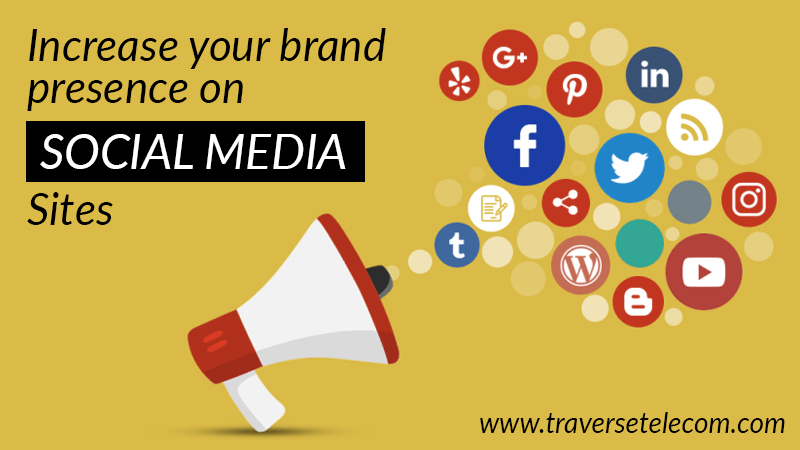 ---
Social media has totally changed the way businesses interact with their customers in this internet age. Social media sites like Facebook, Linkedin, and Instagram has given a new meaning to brand presence and brand awareness.
Businesses all over the world are desperately trying to establish a business presence on these social media sites to increase their sales and revenue.
Offline marketing was the craze in the 90s. Fliers and Billboards were used for large scale advertisement campaigns, but with the change in technology, people started looking for better and effective ways to reach people and the Internet was just the thing businesses needed.
Since the invention of the Internet two to three decades ago, it has reached and connected over 3 Billion people worldwide and continues to do so. The rise of social media sites like Facebook, My Space, and Linkedin opened gateways for businesses to connect with people online and turn them into loyal and regular paying customers.
I hope that you are already familiar with social media and its basic operations before we move ahead.
Today we will discuss how you can increase your brand presence on social media sites to increase your following and customer interaction at your business.
Tips To Increase Brand Presence On Social Media Sites
1)Know Your Audience
The trick to better promoting on social media sites is to knowing and finding your niche. Don't create social media profiles with the motive of garnering followers on your social profile, instead target people who are more likely to buy your products or have any kind of interest in it.
Having a niche audience narrows down the number of people you need to target. Make content that suits your niche the most and makes sure the content you post is liked by your audience and is engaging.
2) Post Visual Content More
We all have heard the saying that a picture is worth a thousand words, right? If you don't believe it try posting a picture instead of your text post and see the difference.
After several tests and experiments, it has been found that visual content works better on social media sites than text-based content. Try to post images with informative content and if possible, try to post video-based content on your social media channels as well.
Visual content on social media sites is known to increase engagement and attract more customers towards your business profile. Instead of focussing on sales only try to share informative things that might benefit your followers and include a link to your website in the description as well as the image or video.
3) Collaborate With Relevant Influencers
Influencer marketing has seen a sudden increase in its popularity in the last few years. Businesses are now approaching influencers to promote their products and offering appropriate compensation in return.
Influencer marketing is popular and successful because of the interaction level between the influencer and their followers. Influencers are deeply attached with their followers and that is why their conversion rates are higher.
There are many ways to approach an influencer, you can directly message on their social profile or email them at their business email. Businesses often offer goodies to influencers to try them out and review them on their channel.
Influencer based reviews get lots of engagement and are more likely to increase your sales than your daily average post. Make sure you and the influencer you have approached are on the same page and the goals set are achievable.
4) Engage
Just posting content and watching followers increase is not engaging. To further increase your brand presence and spread brand awareness over multiple social media channels you need to engage directly with your followers.
Try to reply back and solve their problems (if any) and try to build a long-lasting relationship. Social media is not a one time deal, you need regulars who like and comment on your posts regularly and someday become a loyal customer.
Try using automated posting tools to schedule content and check every one or two hours to see what people are saying and try to respond back to as many as possible.
Make sure to list your toll free number or business virtual number on your social media sites so that your followers can contact your business.
5) Try Paid Ads
If the organic medium is not working for you, there's always the route of paid advertising. Facebook ads reached over 2.5 Billion people on their platform gaining businesses millions of followers and billions in total sales.
Popular social media channels like Facebook, Twitter, Instagram, and Linkedin have paid marketing option where you can create an ad that aligns with your product or services and then choose the target audience to promote your ad.
Give paid ads a try and let us know how it went. Make sure to set a limited budget at starting and keep a close check on the ad spends so that you don't lose all your money in one go, if possible try to hire a professional to set up your ads.
Let us know you thoughts on this article and if you have any questions or suggestions feel free to contact us using the live chat feature on our website and don't forget to check our article on how to call Dubai from India.
Also Read: USA 1800 Toll Free Number Provider
Also Read:  USA Wholesale VoIP Service Provider
Also Read: Canada 1800 Toll Free Number Provider
Also Read: Canada Wholesale VoIP Service Provider
Also Read: UK Toll Free Number Provider
Also Read: UK Wholesale VoIP Service Provider
Also Read : Australia Toll Free Number Plan
Also Read: Australia Wholesale VoIP Service Provider
Also Read: Italy Toll Free Number
Also Read: Italy Wholesale VoIP Service Provider