How To Call Saudi Arabia From India Easily
by Traverse Telecom Posted on Thu 23rd Jan 2020
---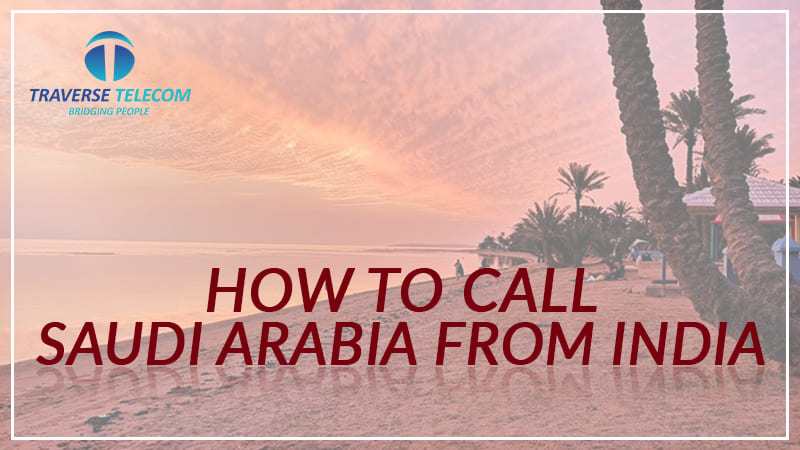 ---
Over 500,000 Indian citizens have moved to Saudi Arabia since 2014 for employment purposes. It's not easy to leave your family behind and move thousands of kilometers away and not be in regular touch with them.
Millions of calls are made from Saudi Arabia to India and India to Saudi Arabia daily for communication purposes. International calling is tricky and not everyone gets the hang of it in the first try and that is why many people have trouble calling Saudi Arabia from India for the first time and today we are here to help you with just that.
To make an international call from India to Saudi Arabia, you need to follow an international dialing format in order to get connected with your loved ones in Saudi Arabia.
We have shared guides on how you can Call India from the USA and How to call Dubai from India in past and you can check these out in order to get an idea on how you can make an International call, to and from India.
How To Call Saudi Arabia From India
When you dial a Saudi Arabia number from India, you will get a message or computer saying that the call cannot be connected because the number is invalid.
Yes, even though you dial the correct nine-digit Saudi Arabia number from your phone, the call will not get connected because of International calling rules.
First, you need to learn about Country exit and entry codes, and Area codes before you start dialing an international number.
1)Exit Code – Exit codes for every country are different and exit codes are dialed in order to call out of your country.
2) Entry Code – Country codes are alphabetic or numeric geographical codes to represent a country and its affiliated areas.
3) Area Code- Every country has multiple states which have multiple regions in it and every state or region have their own area code and some countries require you to dial the area code with the country code in order to get connected easily.
Saudi has more than 26 area codes and before you start calling, you should find the area code of the region you are going to be dialing.
Saudi Arabia Region Codes
Riyadh and the greater central region- 011
Makkah, Jeddah, Taif, Rabigh -012
Dammam, Khobar, Qatif, Jubail, Dhahran, Hafar Al-Batin – 013
Al-Madinah, Yanbu, Turaif, Skaka, Al-Jawf – 014
Majma, Hail, and Al-Qassim- 016
Now that you understand what entry and exit codes are and what you need in order to make an international call to Saudi Arabia, let's get started.
India's exit code+ Saudi Arabia country code+ Saudi Arabia's city or area code+ local number of Saudi.


India's exit code is 00, Saudi's Country code or entry code is 966, and you can find the area codes above.
So, in order to dial a number from India to Saudi Arabia, you need to follow this template.
00+966+Area code+ Saudi's local number
By following this pattern you can easily make a call from India to Saudi Arabia. India to Saudi Arabia international calling rates are very high and if you are someone who likes to indulge in long talks, you should switch to Saudi Arabia VoIP and save on your international calling costs.
To set up Saudi Arabia VoIP, all you need is a Saudi VoIP plan, a VoIP software, your smartphone or pc, and a stable internet connection.
You can easily buy your first Saudi Arabia VoIP plan from Traverse Telecom and we provide Saudi Arabia calling at discounted rates and if you decide to call from outside of India, with our VoIP number you will not get charged roaming charges.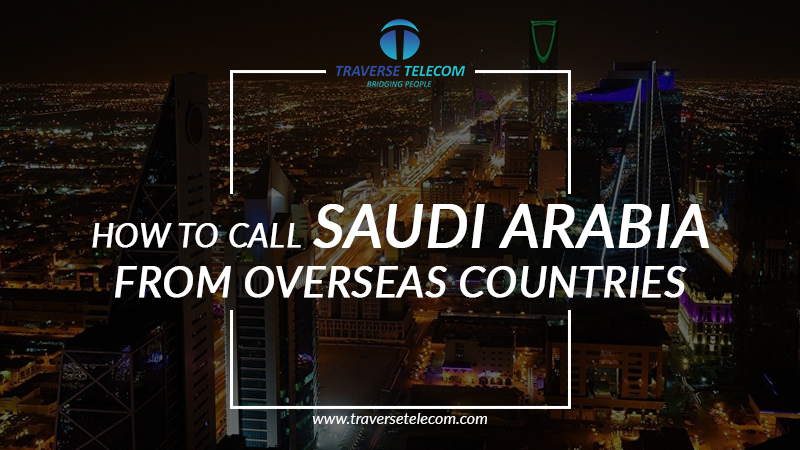 So, now that you know how to dial Saudi Arabia number from India, let's see how you can call Saudi Arabia from other countries like China and Singapore.
How to call Saudi Arabia from Singapore
Singapore exit code (001,008)+ Saudi country code (966)+ Saudi Arabia area code + Saudi's phone number
How to call Saudi Arabia from China
China exit code (00)+ Saudi country code (966)+ Saudi Arabia area code + Saudi's phone number
If you have any questions or suggestions regarding this topic, feel free to let us know and we will try to reply as soon as possible. Feel free to follow us on Twitter and Facebook and we will try to release more guides like this in the future.
Read More: What is Call Screening? How to use Call Screening at your business?