5 Things Every Small Business Needs To Do
by Traverse Telecom Posted on Tue 11th Feb 2020
---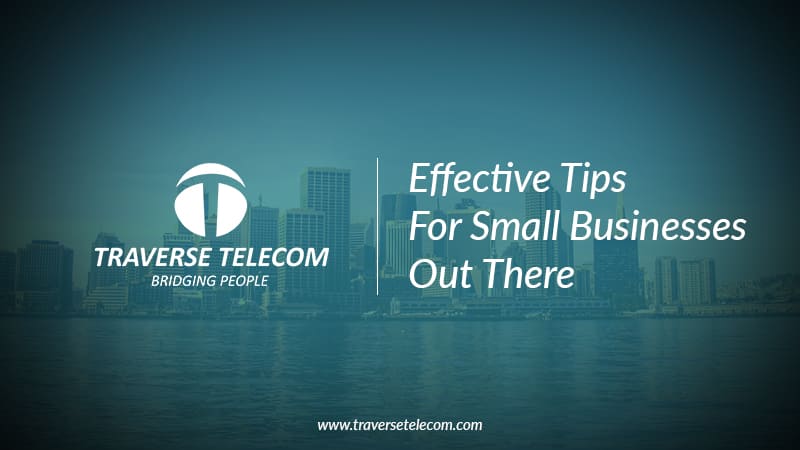 ---
Every year thousands of new businesses start only to fail after a few months of operation, the reason is always lack of planning and understanding future goals.
Today we will be sharing 5 things every small business needs in order to survive the early months of operation. These tips will help you increase sales and scale your company's growth in the early days.
All the tips mentioned below have been tested by market experts and are sure to help your business grow. If you are a business just starting and trying to make your mark in the industry, then we highly recommend that you follow these steps and make a change at your company.
5 Things Every Small Business Needs To Do
1)Cash Management
Cash management refers to the collection and distribution of cash across the organization. Cash management is important both for companies and individuals as they show financial stability across the organization.
Having a good cash flow means managed inflow and outflow of cash across the whole organization. If you are a new business just starting, then you need to focus on your cash management and make sure that you always have more than enough for the payment obligations. Failing to make a payment on time because of poor cash management or cash flow is the major reason new businesses go bankrupt in their early days of operations.
Make sure to hire good Financial managers who are versed in Cash management strategies and can help your business in dire situations.
2) Plan ahead
A Business will not succeed without proper planning. You need to plan ahead and have your objective pre-determined. Business plans are paper or digitally written documents where you have summarized all your business goals.
Everything related to starting the business, development, manufacturing, hiring, sales targets, and how you will be achieving all these goes into the business plan.
Some people believe that they can just have a good idea and start a business on the spot without any business planning, these are the ones that are most likely to fail in the long run.
Planning ahead keeps you on the right track, you have your production and sales target for the quarter or year pre-determined and with a proper assessment, you can know if your company is doing good or it needs help.
3) Go online
This is 2020, the Internet era and if your business is not online then you are missing some major business opportunities. Over 3 Billion people worldwide use the Internet daily to interact with each other and indulge in business and leisure transactions.
Over $100 Billion was done in online transactions last year alone and the number is predicted to grow 4x in the next five years. This is the best time to get your business online and capitalize on all this free exposure and new business.
There are many ways to create a presence online, you can register on social media sites to interact with your customers, get a website created for your business where you list all your products or services for sale.
Capitalize on the opportunity named "The Internet" and watch your business grow right in front of your eyes without much effort.
4) Customer support
Customer support is an integral part of every successful business and businesses that provide customer support are more likely to succeed in the long run than businesses that don't have a customer support department.
Customer support helps increase customer interaction and customer satisfaction in any organization. It can help increase customer's loyalty and trust towards the organization and help increase daily sales and profits.
If you are a new business and thinking of providing customer support at your organization, you can take advantage of toll free numbers or virtual phone numbers to establish an in-house customer support department or call center.
You can read our guides on how to reduce hold time in a call center to better optimize the call flow at your call center. Feel free to read our list of the best USA VoIP providers and Australia toll free number providers if you are looking to buy a toll free or virtual number for your business.
5) A good exit strategy
Most of the entrepreneurs out there go in business without an exit strategy and later on regret not having one. An exit strategy helps individuals plan how he wants to bid his company goodbye while making sure that you are fairly compensated.
The acquisition is the most common form of a good exit strategy these days. Most businesses out there work with the goal to get acquired later on when they get successful so that they can make some good cash while not having to work anymore. Some people decide to stay with the company even after the acquisition and are thus given extra shares in the parent as well as the acquired business.
A good exit strategy is all about how you make the most out of your business, it can either be through the past of acquisition or you can decide to sell or liquidate your shares in the company for instant gain.
Whatever you do, make sure that you part terms with your company on positive terms, as it's the product of your month's of hard work.
So these were some of our tips on things that every business should consider in their early stage. Early planning and having an exit strategy can help make your business a success while providing constant profits.
Let us know if we missed something and we will be sure to add them to this post. We will be updating this article on a daily basis to add the most relevant business tips and tricks.
Feel free to share this on your social media handles and don't forget to bookmark this page for future use. Traverse Telecom is one of the best telecommunication based companies providing toll free numbers and VoIP plans and if you are looking to upgrade your existing phone systems, do contact us!