How To Make The Most Outbound Calls On A Budget In Your Call Center
by Traverse Telecom Posted on Fri 3rd Jan 2020
---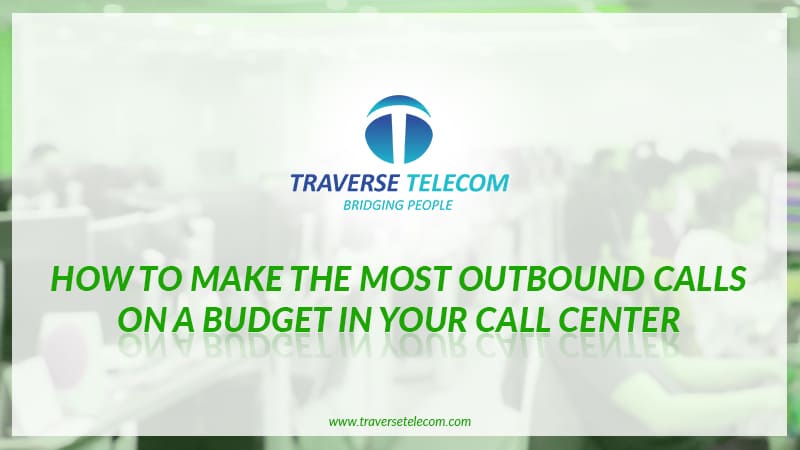 ---
One issue that haunts every small or new outbound call center the most is how to operate and effectively use the limited budget to make the most outbound calls possible and still be in profit.
Outbound call centers make outbound calls every day to potential customers in order to make a sale, raise funds, telemarketing, or more. The objective of outbound call centers is to bring the most amount of business possible in the least amount of calls made.
Small call centers that are just starting often struggle to make their first sale and because of their inexperience they often end up making hundreds of calls for that first sale. Outbound calling plans are expensive, which means there's a limited amount of outbound minutes available.
The art of using those outbound minutes efficiently can help your call center in the long run. Today we will be discussing how you can efficiently use the limited outbound calling minutes available at your call center to make the most sales possible.
But first of all, let's see what is an outbound call center and how it works!
What Is An Outbound Call Center? What Does It Do?
An outbound call center is a type of call center where a group of agents are tasked with making outbound calls to potential or existing customers in order to make a sale or generate a lead.
Outbound call centers use outbound calling to carry out a bunch of tasks like generating leads, telemarketing activities, Market research, customer satisfaction surveys and many more.
So basically if you ever get a call from a company regarding feedback or asking you to try their products, you should understand that you are being contacted by an outbound call center that was hired by the respective company.
Most organizations take benefit of outbound call centers to make their sales pitch in order to save revenue and time. Outbound call centers are the perfect solution to all organization's outbound calling problems.
How To Effectively Use Your Limited Outbound Minutes To Make The Most Calls Possible
If you are a small call center or someone thinking of starting an outbound call center you should first understand how call centers work and how to make the most outbound calls on a budget.
Outbound call centers have a budget set for every day to ensure that they don't overuse their minutes and end up paying more for the additional minutes they are going to call.
Outbound call centers use VoIP or virtual phone numbers to make outbound calls every day and as we all know the VoIP numbers don't come cheap and if you go over the available minutes, you need to pay extra for every minute of the call made.
So what is the solution to this problem you ask? Well, first of all, get a good virtual phone number provider that provides international outbound calling minutes at very cheap rates so that you can get the maximum amount of outbound calling minutes possible for your budget.
Once you have found a reliable outbound minute provider, you need to analyze your daily outbound calls and come up with a strategy that helps you make the most sales with the least calls possible so that you don't run out of your calling minutes.
You can follow these tips to make sure you efficiently use your outbound minutes and make the most outbound calls on a budget.
1)Make your calls short and relevant
When you are working on a limited budget and have a limited amount of outbound minutes assigned to every call so that you don't go overboard and exhaust all the available outbound minutes on one call.
Try to keep your calls short and relevant. This will help save your valuable outbound minutes. Try to use a call center script to automate answers and save time when communicating with a client. Read our article on how to write a call center script to get ideas on how you can write a script that saves your time as well as your customers.
2) Try to reduce call hold time
Call on hold is basically time wasted for both you and your customer. Every second is precious, so try to rarely put your customers on hold by efficiently using the call script you are given. You can check our tips on how to reduce the call hold time in a call center.
3) Try automated calling
If you are calling on behalf of an organization informing their clients about the latest discounts, upcoming sales, etc you can take advantage of automated calling like IVR to make the calls short and automated and save your precious outbound minutes.
To make an automated call with IVR, all you need is a dialer, an audio file containing everything you want to say and an outbound minute plan.
So these are some of the tips you can implement in your outbound call center to efficiently use the outbound minutes available while making the most profitable calls possible.
There are thousands of outbound minute providers online but very few of them are worth their salt and you need a provider the provides the best value for your money.
If you are an outbound call center looking for an outbound or virtual number provider then you are at the right place. Traverse Telecom is considered one of the best telecommunication providers and is frequently used by call centers all over the world.
You can buy an outbound calling plan for your call center from Traverse Telecom easily. We provide 24×7 customer support on our website in the form of live chat and email support. If you ever face any problems using our services feel free to email us at connect@traversetelecom.com.