How To Call Dubai From India
by Traverse Telecom Posted on Thu 19th Dec 2019
---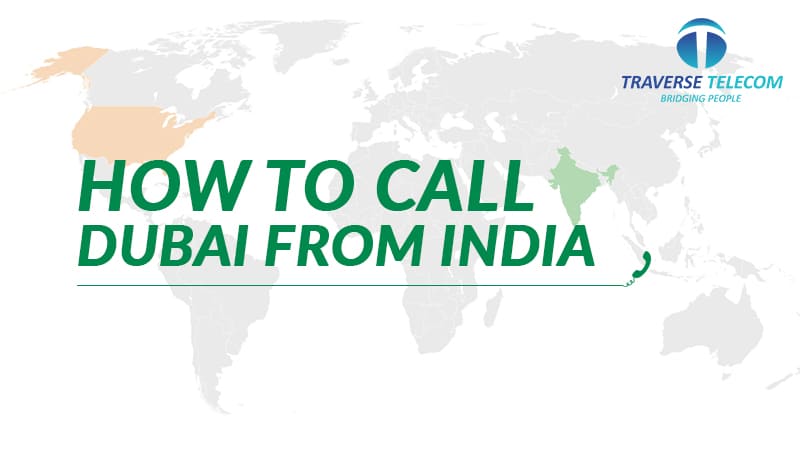 ---
Dubai is well known for its sightseeing attractions and its happening nightlife, the standard of living in Dubai is higher than most of the developed cities in the world.
Every year thousands of Indians move to the great land of Dubai with hopes of finding employment or travel to see the culture and architecture of Dubai.
According to data released by the United Nation, over 18 million Indian people are living in UAE as of now and the numbers are only increasing every day.
With millions of Indians living away from the home, the need for communicating with their families rises. Most of the Indians living in Dubai are either on a tourist or job visa and have their families living in India and most of them face issues while making a call to Dubai.
When you dial the Dubai phone number, it will not connect and your network operator will tell you that the number you are calling is incorrect or out of reach. This creates confusion among both parties and because of this they are not able to communicate for several days at first.
To dial the UAE or Dubai phone number from India you need to follow a set procedure so that your call gets connected, otherwise, your call will not go through and you will not be able to make a call to Dubai from India.
Making an international call is always a hassle because of all the formalities and procedures one has to go through. Today I will show you how exactly you can call Dubai from India.
Before making a call you need to first understand what type of number you are calling, if its a standard mobile number or a landline phone number from Dubai. Landline phones have extra region-based codes that you need to dial when you dial a landline number.
When you call Dubai from India, international call charges are applied, which means all your calls will be expensive. If you are looking for alternatives where you can save money while calling Dubai from India, you can buy UAE virtual phone numbers so that you can call Dubai at local rates and by using a virtual phone number you will not have to dial any extra codes or exit codes in order to call a Dubai number.
So now let's get started on how to call Dubai from India guide.
How To Call Dubai From India
Before starting the guide on how to make a call to Dubai from India we need to learn about a few things that we will be using in the future for making the call.
1)Exit Code- To dial outside of your country, you need to dial the exit code so that your call exits your country and is ready to be connected to a foreign location.
2) Country Code- Every country has an exit and entry code. If you are dialing outside of your country you need to first mention your exit code and the receiving country's entry code. You can easily find this online.
So now that you are familiar with these terms, let's move ahead. To make a call to an international number we need to dial a set of codes before entering the real phone number and to make a call to Dubai, you need to know the exit code of India and the country code of Dubai.
Now to call Dubai from India you can follow this template:
India's exit code+ Dubai (UAE )country code+ Dubai's city or area code+ local number of Dubai.
By following the steps given above you can easily make a call to Dubai. The country code of India is 00, the country code of UAE is 971, and Dubai's area code is 4.
So this is what you need to dial in order to reach a phone number in Dubai.
00+971+4+ phone number
We have also written articles on how to call India from the US and how to call South Africa from USA. Do check them out to know more about the international calling process and we will be updating this article on daily basis to provide proper information.
Regular phone numbers charge more while making international calls and if you happen to face a call drop while calling you will be charged for the whole minutes. Call drops and bad voice quality are common in long-distance calling and that is why we recommend Internet calling to all our customers.
Using VoIP, you can make all your calls online at less than normal prices. With Dubai VoIP aka UAE VoIP you will be able to call Dubai at less than standard rates and you will never face any call drops.
Now, let's see how you can make calls to Dubai from different countries around the world.
To call Dubai, all you need to know is your country exit code, Dubai's country code, Dubai's area code, and the phone number, and you are good to go.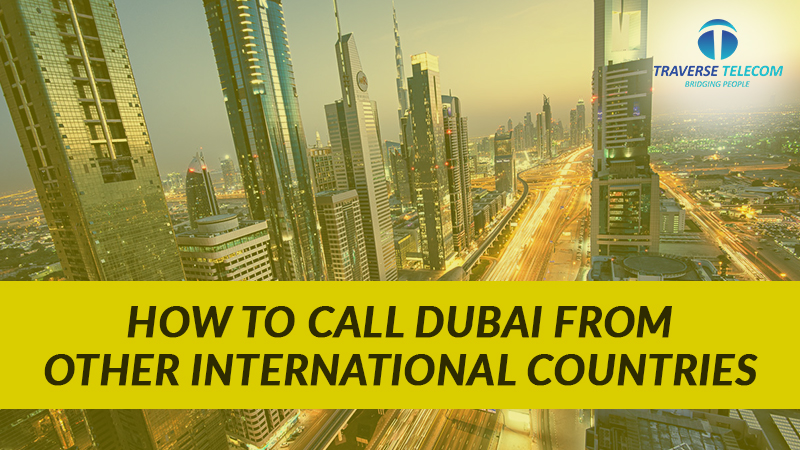 Follow this template if you are calling from outside of UAE.
Your Country's Exit Code+ Dubai's country code (971)+ Dubai area code (4)+ Dubai phone number
How to call Dubai from China
China exit code (00)+ Dubai's country code (971)+ Dubai area code (4)+ Dubai phone number
How to call Dubai from Nigeria
China exit code (009)+ Dubai's country code (971)+ Dubai area code (4)+ Dubai phone number
How to call Dubai from Singapore
Singapore exit code (001,008)+ Dubai's country code (971)+ Dubai area code (4)+ Dubai phone number
So I hope you got the answer to all your questions and if you still have some doubt in your mind regarding this topic, feel free to contact us using the live chat feature on our website and also check out our article on Canada toll free number and VoIP CLI Route