VoIP Services Banned In Middle East Countries- What To Do?
by Traverse Telecom Posted on Mon 6th Jan 2020
---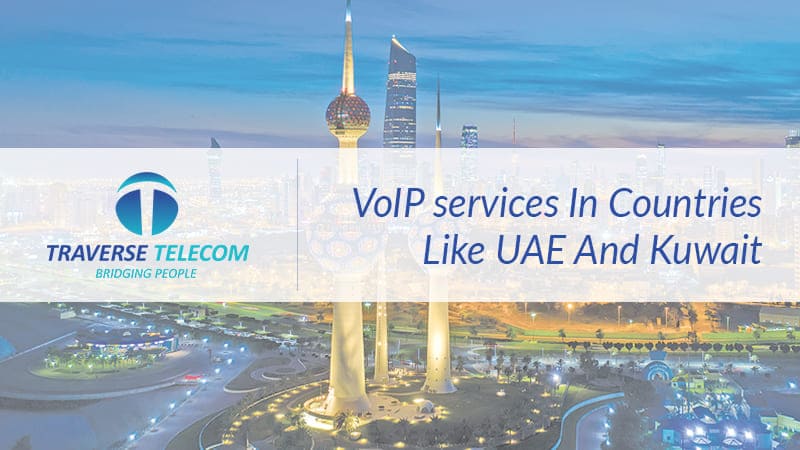 ---
The counties in the Gulf Cooperation Council have exclusively banned the use of VoIP services in the countries and have concurrently blocked the usage of apps like WhatsApp and Skype, using which you can make long-distance web calls.
VoIP services offer free international calling or international calling at affordable rates and this has made VoIP services very popular among people all over the world.
People in Gulf countries, where most of the people living there are immigrants or are there for jobs and travel, have to make long-distance calls to their family and friends back home daily find VoIP services a boon as they the calls over VoIP are very cheap or you can use services like WhatsApp, Viber, and Skype to make free international VoIP calls.
Everything was going good for Middle Eastern countries when unexpectedly the government decided to ban all the VoIP services in the country, including WhatsApp and Skype and left people desiring for cheaper long-distance call rates.
Reason For Banning The VoIP Services
Gulf countries like the UAE and Oman gave National security to be the reason and have restricted people to using national telecom providers only, who are providing long-distance calls at very expensive rates.
The government claims that foreign organizations were using apps like WhatsApp and Skype to promote cyber-terrorism and cause political protests.
The government of the UAE and Kuwait has banned the VoIP services with the hope of increasing the revenue of their own country's telecom provider in order to further boost their revenue.
How Has VoIP Ban Affected People In Countries Like UAE And Kuwait?
VoIP bans started way back in 1999 in Egypt and since then we have seen mixed reactions from countries like Kuwait, Oman, Egypt, and Morocco.
The VoIP ban has affected the lives of people greatly, both emotionally and financially. There are only two telecom providers in the UAE that provide long-distance calling services and as expected the calling rates are very expensive compared to VoIP services.
People are now getting charged almost twice or thrice the rate for making the same long-distance call. After the VoIP ban hit the news, people started sharing their frustration on the Internet and how they want VoIP services back in the country.
So, What Can We Expect In The Future?
On November 6th, 2019 CNBC published an article saying that UAE will lift the ban of WhatsApp and VoIP services in the coming years. This is good news for everyone but it's been more than a year and we have heard no new news regarding the VoIP ban issue.
People are still being forced to use local telecom providers to make long-distance calls and pay high per minute call rates. With local operators like Ooredoo and Vodafone Qatar, the choices are limited and people are trying to find new ways to access the banned VoIP services in UAE and Kuwait but are continuously failing at the job.
The use of Vpn is illegal as well and that is why people are unable to access VoIP services global Vpn's. We still have to get the latest news regarding the VoIP ban issue and we will update it here as soon as we hear something from the telecom officials in the Gulf countries.
External VoIP Providers That Still Work In The Gulf Countries
Even though VoIP is banned in countries like UAE and Kuwait, there are some providers that still provide legal and working VoIP to the Gulf countries and one of them is Traverse Telecom.
Traverse Telecom provides Saudi Arabia VoIP, UAE VoIP, Iraq VoIP, Kuwait VoIP legally and you can easily buy a VoIP plan of your choice from our website.
You don't need to use Vpn's to access our VoIP services and we also offer a limited trial period to test out our services and pay as you go plans to everyone who opts for a paying plan.
Our VoIP plans are affordable, easy to use and totally legal. Traverse Telecom strives to provide the best VoIP services possible and the activation process takes less than 3 minutes and you can start calling as soon as we activate your account.
If you have any questions or suggestions, feel free to email us at connect@traversetelecom.com or you can chat with our customer support executive using the live chat feature on our website. Thanks!
Also Read: How To Call United Kingdom From India