Here's How To Write An Effective Call Centre Script
by Traverse Telecom Posted on Thu 2nd Jan 2020
---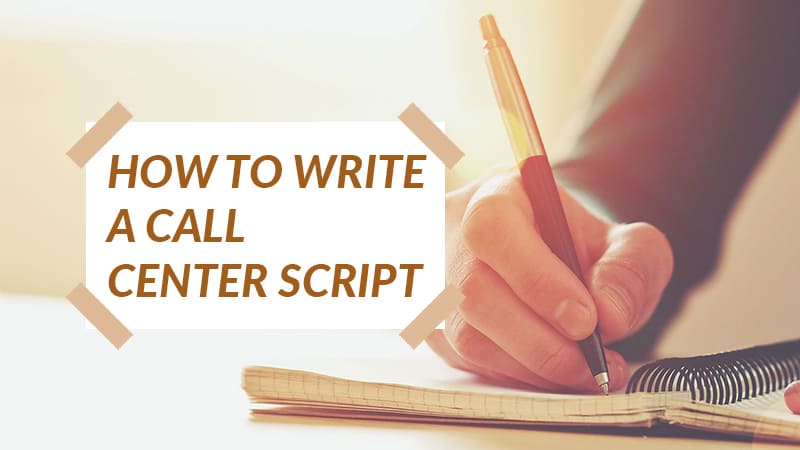 ---
Over 70% of the call centres worldwide use call centre scripts to better serve customers from all over the world. Call centre scripts help representatives better connect with their customers and answer all the questions asked without any delay or misinformation, but a bad script can easily ruin the experience for you as well as your customer.
So it is very necessary to happy a good script at hand which satisfies your customers and makes you not sound like a robot at the same time. Call centre scripts are often written and handed within the call centres to optimize call times and minimize human error, but just reading from the script can make you sound like a robot and we all know how much customers despise that.
Customers like interacting with a real human who can make decisions on the spot and not be reading from the script only. So you need a script that satisfies your customers while not making you sound like a robot. Today, we will see how you can write an effective call center script that works like a charm.
First of all, let's see what a call script is!
What Is A Call Center Script
A call center script is a pre-written script that guides customer support agents while they are on a call or chat with a customer.
Call centre scripts are written with the motive of increasing customer satisfaction and driving more sales to the business. Call centre scripts can be used in customer support departments for providing technical product support as well.
Why Write Your Own Call Center Script?
Most of the call centres out there are using knockoff scripts from the Internet and wondering where they went wrong in attracting new customers and increasing sales.
We all know that when customer support representatives take help of scripts to better communicate with their customers and every industry has different script standards, which means that a call centre script for a food product will not work for a tech product-based call centre and that is why one should never rely on scripts available on the Internet but create their own.
Writing your own script will help you understand your customer's needs better and interact with them on a deeper level while providing the best answers in the least amount of time possible.
How To Write An Effective Call Center Script
A good call center script should include a good greeting, ways to interact with different kinds of customers, answer to all the expected questions, room for the representative to make its own decision, overall call summary and then a good exit.
So now that you have clear objectives in your mind, here's how you can write an effective call centre script that works and not makes you sound like a robot.
1)Keep it simple
The very first thing you should keep in mind while writing a call centre script is that it should be simple and easy to understand. Too much usage of jargon can confuse both your operator as well as your customer.
Use language that is easily understandable by your customer support staff and can even be used by new employees without much training.
2) Use Spoken English
When writing a call centre script, you should emphasize on verbal English instead of using profession written English. Write a script that is easy to read out loud and include everyday communication words to make it feel familiar while still being professional.
3) Include all the expected questions and possible answers
It's your company so there is no one who knows about it more than you do, right? Try to conduct market research and try to include all the questions you expect your customers might be having and write an easy and short possible solution for all.
As stated above, try to use spoken English for all the answers and make it easy to understand, both for your support staff and customers.
4) Include proper greetings
A warm welcome and a hearty goodbye always warm everyone's heart and that is why a proper professional greeting can change the mood of the whole conversations.
Customers who call with questions regarding the product or service mostly frustrated or confused and with a proper greeting you can ease their suffering and then move on to completely eradicate their product related problems with your solutions.
5) Always use honorific while addressing your customers
Customers are not your friends, they are strictly looking for solutions or answers for their product or service related problems. Try to keep the communication professional and always address the customer by adding honorific before their name.
6) Include empathy statements and assurance
Always try to use empathy statements and provide assurance in the same statement as "I understand how you feel and we will do our best to solve all the issues you are facing! "
7) Add room for operator or support staff to use their own words
Don't write everything out and make your support staff read point to point from your call script. Leave room for customer support staff to use their own people skills to interact with the customers and negotiate on the company's behalf.
Try to make the call feel natural and not scripted and robotic. Have faith in your product and support staff to take care of new unknown issues and fix as they seem fit. Try to add as much as you can in your script in the least lines possible.
Don't make it feel bulky and always aim for customer satisfaction over the company's profits. Because a satisfied customer is more likely to return and buy more and recommend your services to family and friends.
Try to reduce the hold time in your call center by using your script efficiently and always end your conversation with a warm exit and greetings.
8) Continuously refresh your scripts
As the market change, so do your customer's questions. This is why it is important for you to continuously update your scripts and include all the latest information possible.
Try to refresh your scripts every six months to provide your customers with the best customer support possible and increase incoming sales and revenue numbers from potential customers.
So this was our take on how you can write an efficient call centre script that really works and can help you increase customer satisfaction and drive new sales to your business.
If you are running a call centre business, you should buy a toll free number for your business so that you can customers can call you for free. This helps increase customer interaction and you can take advantage of this to convert potential customers into loyal regular customers.
Feel free to check out our articles on how to buy Canada toll free number and how to buy USA toll free number online. We will be updating this article on a daily basis. If you have any suggestions or questions regarding this topic, feel free to contact us using the live chat feature on our homepage or email us at connect@traversetelecom.com.