How To Buy Australia Toll Free Number For Your Business
by Traverse Telecom Posted on Tue 12th Nov 2019
---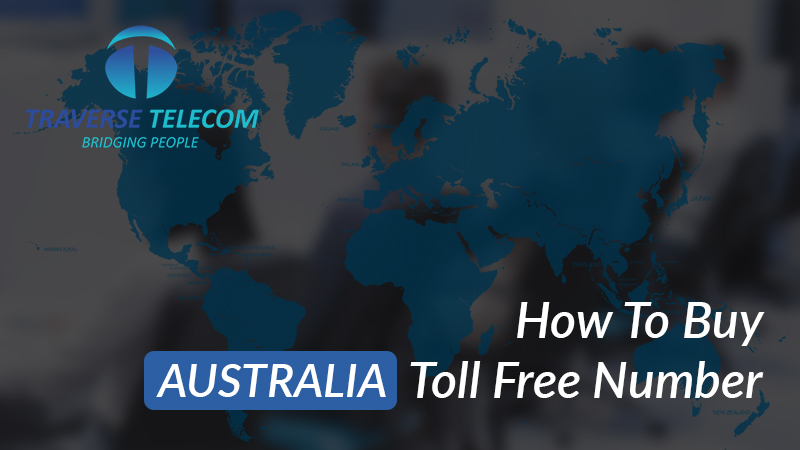 ---
Australia is the world's 13th largest economy and the business culture in Australia is unlike others. Australia is one of the most developed countries and a big economic power for the rest of the world.
Australia with its population of more than 25 million people has become the prime target for businesses around the globe. Everyone wants a piece of the Australian market and is ready to do anything in order to establish a business presence there.
Australia is located in the continent of Oceania and extends over 7 million square kilometers of land. Australia is the 6th largest country in the world and soon to be one of the richest countries in the world.
If you are a businessman looking to expand your business in the beautiful country of Australia, you should act now, as the competition is only increasing every day.
If you already have a business in Australia or looking to start a new business, I recommend that you buy a toll-free number for your Australian business.
Toll free numbers can help you establish a brand presence in the industry while getting new clients simultaneously. Toll free numbers as the name implies are free to call numbers for everyone.
If you every dial a toll free number, you will not get charged and that's what makes toll free numbers unique. Toll free numbers are premium 800 numbers that are easy to remember and free to call.
Toll free numbers usually start with prefixes like 800, 877,866,844, etc. The prefixes for every country differs and many countries share the same prefix "800" and these numbers are called 800 numbers.
800 is the most popular toll free number prefix out there and you can get a 800 starting toll free number for your business for as low as $4 per month. The toll free number rates depend on the country and today we are going to discuss how you can buy an Australia toll-free number for your business.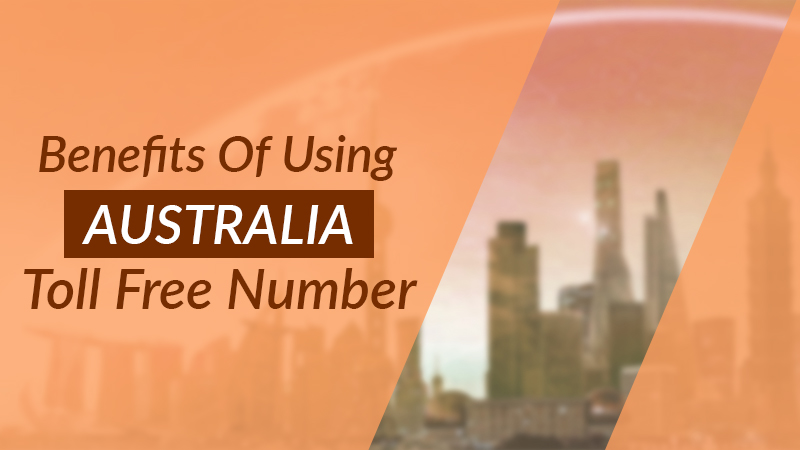 What Are The Benefits Of Australia Toll Free Number?
Toll free numbers have many benefits and today we will discuss how buying an Australian toll free number for your business can help you land new clients and improve your brand presence.
Australia toll free numbers are free to call for all the Australian residents and if you are someone outside from Australia, you will be charged for making the call.
Here are some benefits:-
1) Easy To Remember
Toll free numbers are also called easy to remember numbers. People are more likely to remember a toll free number than a local landline number advertise in front of your shop or office.
Toll free numbers can be customized further to add your product name or brand name in the number which can help boost your brand value in the market. These types of toll free numbers are called vanity phone numbers and can be easily bought online using toll free number providers.
2) Customer Satisfaction
Customer satisfaction is the number one factor when it comes to a company's growth. A happy customer is a returning customer and that means more business for the company.
If you are running a business in Australia, customer satisfaction should be your number one priority because a satisfied customer can do wonders for your company. A satisfied customer uses your product more, recommends your product to friends and family and always gives you that vote of trust.
3) Free To Call
Australia toll free numbers as well know are free to call. If you are a citizen of Australia you can call the number without getting charged. This unique feature of toll free numbers makes it suitable for customer support and you can use it to your advantage to drive new sales at your company.
People are more likely to notice a toll free number than a local landline phone in front of your office and you are likely to receive more calls than your competitor using a local phone number.
4) Improves Brand Presence
Australia 800 numbers make your business appear local and professional to all your existing as well as potential customers. If you are a new business struggling to make your first sale, toll free numbers can help pave a path for your business.
Toll free numbers were mostly used by fortune 500 companies in the past and this is why people started recognizing 800 toll free numbers as professional numbers and every company that had one was getting recognized as a brand.
Now that toll free numbers are very cheap, anyone can buy one for their business and reap the benefits of having a toll free number. It can help you boost your brand image and spread brand awareness and as well all know people love and trust brands. So, if you show yourself off as a brand using the Australia toll free number you are sure to get more new clients.
Where Can We Buy Australia Toll Free Number Online?
There are thounsands of toll free number providers online but only few of them are worth their salt. You will even find many companies trying to scam you online by offering Australia toll free numbers at very cheap rates.
Don't fall for companies like these and make sure to always double-check a company's credibility and customer reviews left on their website or review sites online.
If you are looking for a good toll free number provider for your business, I recommend Traverse Telecom. Now, you must be wondering that we are recommending ourselves, what's great in us and why should we be your first choice as a toll free number provider right?
Let me tell you why!
We have been providing telecommunication services over the Internet for over 10 years now with 99% customer satisfaction. We offer 24×7 customer support on our website in the form of live chat and you can email us at connect@traversetelecom.com as well.
We value every customer of ours and that is why we strive to provide the best customer support possible. You can buy your first Australia toll free number from our website for as low as $8.5 per month.
We provide 15+ additional features like auto-attendant, IVR, fax to email, call forwarding, call waiting with our toll free numbers that help enhance your calling experience and we are sure that once you signup with us, you will never have to change your toll free number provider ever again.
If you have any more questions regarding Australia toll free numbers feel free to comment below or you contact us using the live chat feature on our website as well and also check out Canada toll free numbers.